On behalf of the entire team and the 380 students of our training institute, I am pleased to welcome you to the IFMK VICHY
Founded in 1941, and, evidently, approved by the French Ministry, our IFMK is today one of the largest and most recognized in France for the quality of its training.
The whole staff remains, as much as possible, available for you so as to improve your student experience within the IFMK and foster the success of your projects.
Our training system combines fundamental knowledge, research methodology and practical knowledge. It is provided by dedicated trainers, intentionally chosen for the diversity of their backgrounds (hospital, liberal, university, etc.) in order to sharpen your professional, intellectual and cultural curiosity.
Our goal is to make you competent, reflective practitioners, with a critical mind, the ability to listen to your patients, and able to develop relevant care approaches.
You will enjoy vast, modern premises, dedicated to the professional teaching of physiotherapy. The premises are easily accessible and are located in the heart of a thermal, enjoyable  city. We take pride in providing optimal study conditions with state-of-the-art equipment and 1 technical platform dedicated to research. You also have access to a relaxation area, a library and Wi-Fi access.
The student associations within the IFMK Vichy (AKTEEV, COGIV and CULTIVE TA PASTILLE) offer you a rich offer of sports and cultural activities, which promote your well-being and contribute to your success.
You will have the opportunity to carry out your internships in different types of structure ranging from hospital departments to the private practices.
At the end of your training, you will have the keys to start a career that we hope will promote your personal and professional development.
Because your future will be what you have decided to do with it, it is up to you to create the future of our beautiful profession of physiotherapist.
I hope to see you soon.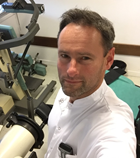 Sébastien GIROLD
IFMK Vichy's director.