MOTORWAY ACCESS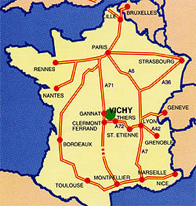 From Paris, A71 motorway
From Lyon, A72 motorway
From Montpellier, A75 motorway
From Bordeaux, A89 motorway
From Toulouse, A89 and A20 motorways 
Distances
Clermont-Ferrand 60 km
Lyon: 210 km
Paris: 342 km Montpellier : 409 km
Bordeaux: 428 km Toulouse : 432 km 
Marseille: 433 km Nantes : 483 km
View itineraries
Lyon -> Vichy
Paris -> Vichy
Clermont-Ferrand -> Vichy
TRAIN ACCESS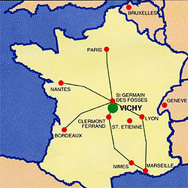 6 direct daily connections with Gare de Paris-Bercy-Bourgogne-Pays d'Auvergne (2h50)
6 direct daily connections with Lyon Part-Dieu (2h15)
15 daily connections with Nîmes, Béziers, Marseille, Bordeaux and Nantes.
For more information on train schedules: 
ACCESS BY AIR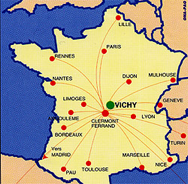 Clermont-Ferrand
(Located 60 km from Vichy)
More details on:
Shuttle + train (4 shuttles per day on Sundays): a transfer is possible to the SNCF station of Clermont-Ferrand. Ticket to be bought directly from the driver.
Travel time: 20 minutes
Lyon Saint-Exupéry
More details on:
www.lyon.aeroport.fr
Shuttle to Lyon + train: a transfer is possible to the SNCF stations of Lyon Part-Dieu and Lyon Perrache. A "Satobus" shuttle is in service from Monday 06:00 to Sunday 23:20 (departures every 20 minutes). Tickets can be purchased at the SATOBUS counter, inside the airport or directly on the bus. The journey takes 30 minutes to Part-Dieu station, 45 minutes to Perrache station. These two stations serve Vichy, however we recommend the Lyon Part-Dieu station.
Paris Roissy Charles de Gaulle
More details on:
www.adp.fr
By plane to Auvergne Clermont-Ferrand Vichy airport: when booking the ticket, ask the airline for a flight with extension to Clermont-Ferrand airport. The baggage will be checked in at the departure airport and directly transported to the final destination. Once in Paris, you will only have to go to your correspondence.
Direct transport by bus, RER or metro to "Paris Gare de Bercy", departure station for Vichy.